I am back with a new review of a dorama and a fanart about it:)
(If don't know about it, they are in simple way asian TV series.
And they are very good!For music, actors,sets, etc...)
The dorama I am talking is
PLAYFUL KISS, or
Mischievous kiss
Title:
Kiss in the rain
Characters:
Oh Ha ni,Baek Seung jo
Medium:
PHOTOSHOP cs3
Rating:
PG
Author's Notes:
from 13/14 episode
Playfull Kiss
Producted in Korea
Episodes
:16
Based on
:the famous manga
Itazura na kiss
Trailer:
here
and
here
For more info to how watch it
here
or ask me!:)
Subbed in many languages ,english here ,italian here , spanish here
Oh Ha Ni is a clumsy student who falls for the perfectionist, Baek Seung Jo. However, Seung Jo is indifferent towards her and rejects her love. When Ha Ni's house collapses, she and her father moves into his long-time friend's house. It turns out that Seung Jo is the friend's son and Ha Ni is given the opportunity to be near the guy she loves. Will she be able to move Seung Jo's heart?(from dramawiki)
I really loved how much this dorama is lovely, sweet, funny and cute!
Just the first episode it's a bit slow but then it'll grow up by episode in episode!
Specially the chemistry between the two actors protagonist;)
I was in a very hard moment when I watched it, but thanks at this dorama I smiled so many times:D
--------
I collected some fan made video so if you want give a look at it before start with it ...
-
Girl like me
http://www.youtube.com/watch?v=KQju5YnqeCs
(with spoiler)
-
Breathless
http://www.youtube.com/watch?v=cMqcqX94fVM&feature=fvw
( with spoiler)
-
Why
http://www.youtube.com/watch?v=zVlW8nGSO7M(
with spoiler)
Really hope this make you a try, let me know your thought about it, and if you watch!
Let the drama fans grow up :)
Playful kiss2
by =
mary-dreams
on
deviant
ART
a wallpaper version: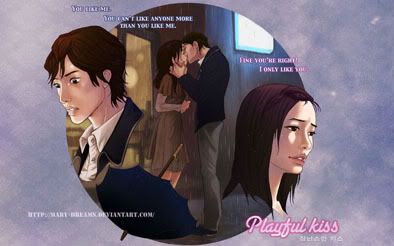 click on it for see it in a bigger version!
Waiting for a yours opinions !
Thanks:)
Maria
Rules
1) Credit me at
maria_abagnale
.
2) Please if you make icons (etc.) using my art , I want to look them! I love icons!But please not use commission art!
3)If you want to use my icons please you leave a comment!
Commissions
and Art in sale
My Gallery pages:
Kiss me if you dare( Ron and Hermione fancomics)
My Fanart100 of Ron and Hermione
http://xoomer.virgilio.it/mariia/
http://hpfanart.altervista.org/
http://mary-dreams.deviantart.com